Used equipment for sale
Updated Mid Fall 2019
Basis Inspiration and Basis Superarm 9 with AJ Conti's Transcendence Super Platter & Bearing upgrade
One discerning owner, well cared for Basis Inspiration turntable featuring Basis Superarm 9 and AJ Conti's Transcendence Super Platter & Bearing with vacuum hold down upgrade and factory accessories. This turntable list price was $85,000 when new. Age of turntable est. 3-4 years and Super bearing & platter upgrade est. 1 year old. Phono cartridge shown is not included.

Includes:
- Basis Audio Inspiration turntable with factory accessories and AJ Conti designed Transcendence Superplatter & Bearing upgrade with vacuum hold down system.
- Basis Superarm 9 SA9 with balanced XLR terminations
- Original Basis factory shipping boxes
- Complete with Synchro-wave power supply, vacuum motor plus regulator

Please note: This was originally the standard Basis Inspiration that has been upgraded at the Basis factory to near top of the line Transcendence table level with the addition of the Superplatter + bearing, the same used in the Transcendence.

Retail cost - $18,000 Basis Audio Superplatter + bearing upgrade
Retail cost - $16,000 Basis Superarm 9 SA 9
Retail cost - $51,000 Basis Audio Inspiration (sans tonearm)

Total cost = $85,000
Asking price - $SOLD
Robert Fuchs tonearm
Near mint condition latest version Robert Fuchs tonearm premium "Sperling L-1" production version includes (1/ea.) 9" length Snakewood wand and (1/ea.) additional 12" length Snakewood wand with KONDO Silver internal wiring terminated with RCA type ends. Note: Tonearm has not been mounted or used since current manufacturer updates performed.
List €9800 / (MSRP $11,035)
Asking $3595 o.b.o. (Savings of nearly 70%).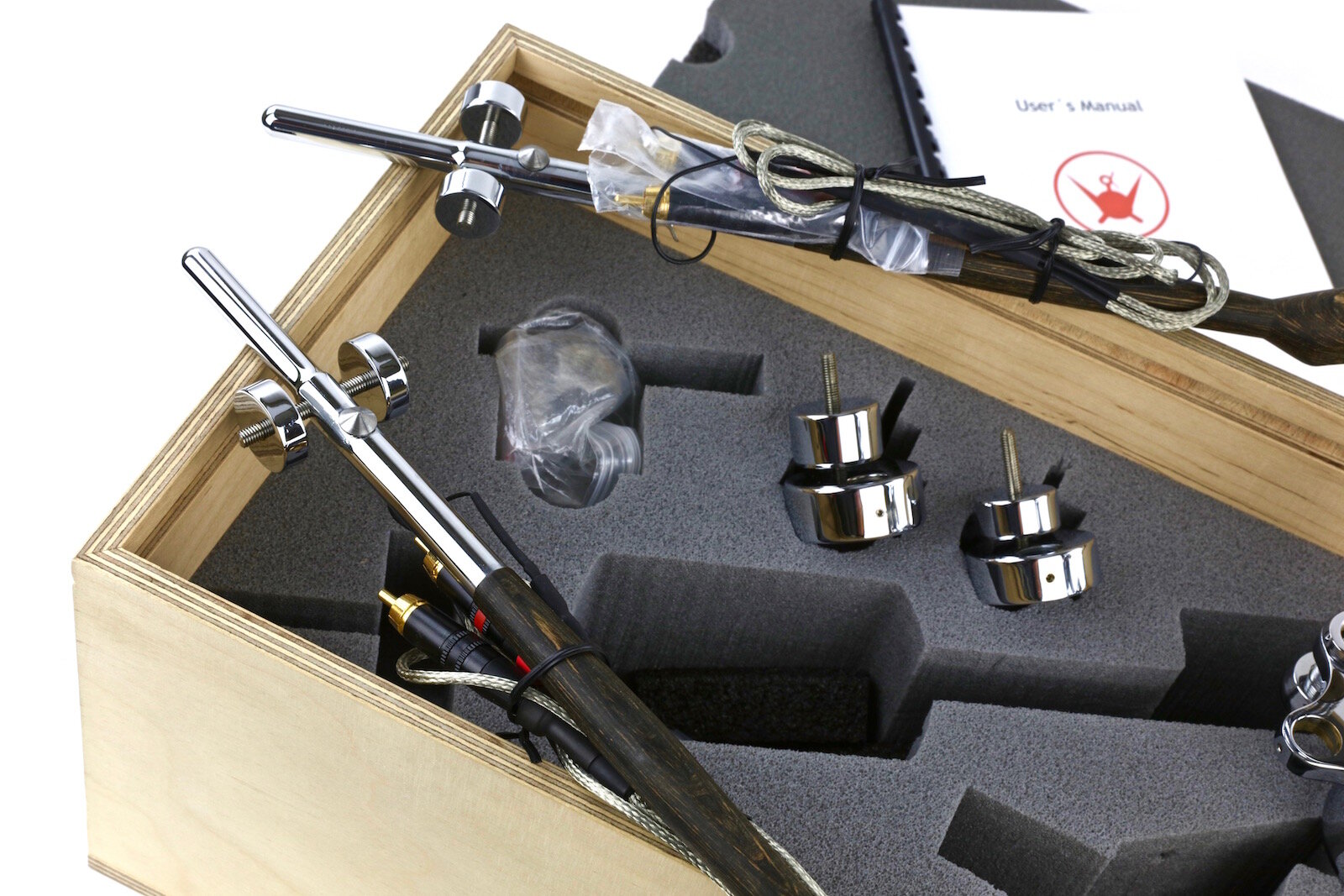 David Berning Co. ZOTL Pre One Special Upgraded Version
David Berning Co. ZOTL Pre one serial #13043T featuring many special upgrades performed by North American factory authorized Berning modifier Kris Kosiba / Lakeview Audio. Many significant upgrades including the following: Cryo treated Oyaide IEC, Patented Stillpoints isolator circuit board stand-off's, V-Cap grounding caps, Shielded power wire, Capacitive upgrade, ALL factory wiring replaced and upgraded with cryogenically treated continuous cast OHNO Pure Copper oxygen free long drawn wire, naked Vishay damping resistors, and upgraded vacuum tubes. The upgrades as listed represent well over a $2000 additional upgrade by itself. These critical upgrades take the Berning Pre One to a truly reference level of playback capability. Noise floor is significantly reduced, the capacitive upgrade and damping resistor change improves dynamics and PRaT dramatically. The OHNO pure Copper wiring upgrade by itself results in massive gains in overall clarity, tonal weight and body. This preamp is in excellent shape and is equipped with the optional RIAA phono section and has Jensen SUT transformers installed ready to play low output moving coil cartridges. Worldwide voltage 110v/120v ~ 60Hz and 220/240v ~ 50Hz compatible input. Lastly, Stillpoints AL isolation footers set of 3/ea. included.

List $14,500
Asking $6250 o.b.o. SOLD

Additional Factory Specifications below:
Dc-coupled line stage with dc offset null servo.

Dc output protection shutdown.

No negative feedback used in either the phono or line stage.

Non-magnetic chassis prevents skin-effect induced distortion.

Power consumption: 35 W ac powered, or 24 W dc powered (12 V @ 2 A).

Line voltage required: (universal) 100-240 VAC, 50-440 Hz.

Signal to noise, high-level stage, 20-20 kHz: 90 dB referenced to 1 V RMS input, unweighted.

Signal to noise, phono only, without MC step-up transformer: 60 dB ref. 10 mV RMS input @ 1 kHz, unweighted.

Signal to noise, phono only, with MC step-up transformer: 56 dB ref. 1 mV RMS input @ I kHz, unweighted. Transformer configured for 1:8 ratio.

Distortion, almost all 2nd harmonic: High impedance load ~ 0.5 % @ 2 V RMS output; 50 Ohm load ~ 2 % @ 1 V RMS output.

Maximum output: Hi-imp.- 5 V RMS @ 3 % THD; 50 Ohm- 2.5 V RMS @ 7.5 % THD.

Frequency response @ 2 V RMS output both High- imp load and 50-Ohm load: -0.5 dB at 20 kHz and + 0.2 dB at 20 Hz. Ref 0 dB at 1 kHz.

Output impedance: 50 Ohms.

High level gain: 12 dB maximum.

RIAA phono gain @ 1 kHz, no transformer: 48 dB. Additional 17 dB with transformer set to 1:8 configuration. 1:12 and 1:24 configurations also available.

Phono overload: 110 mV RMS @ 1 kHz no transformer. 14 mV with transformer (1:8).

High-level input impedance: 56 k? max, can be as low as 12 k? with balance attenuators set to minimum and volume control turned full clockwise.

Tube complement: (4) 12AU7 high-level stage; (2) 12AX7 + (2) 12AT7 phono stage.

Size: 42 cm wide, 33 cm deep, 15 cm high, (16.5 X 13 X 6 inches), including connectors and feet and knobs.

Net weight: 6 kg (13 lb); Boxed, 8 kg (18 lb).

Finish: silver anodize
TASCAM 42B 1/4" 2 track broadcast grade open reel-to-reel tape player
Near mint condition unit completely refurbished by well known industry professional Soren Wittrup (CS Electronics). Tape handling electronics are his own design so that this device handles tape in similar fashion to a big Studer, in other words, it is extremely gentle on tape. Balanced XLR inputs/outputs only.

Unit also has a custom switch on the back which allows an external tape head preamplifier to connect direct to the playback head bypassing the internal playback electronics. Playback electronics are custom and will exceed most external head amps playback capabilities. This unit also has a high end Furutech IEC input on the back in place of the stock captive power cord. Physical aluminum chassis has been custom repainted, including the stand by Artisan Fidelity. The "TASCAM" sticker on the stand was removed, that is actually paint you see in the picture.

Stock glass fuses have been replaced with AMR Gold MK II fuses. The unit also includes the infrared remote control option which allows start/stop, (fast)rwd ~ (fast)fwd and library spooling in both directions. The factory stock standard yellow (read: old looking) meter lighting was upgraded to a custom blue lighting which appears more modern. The EQ is CCIR but can be internally switched to NAB. Soren worked out the circuit to add a switch so that it can be externally switched between the two EQ's.

Transit will be rather costly due namely to size. Buyer must pay for insurance, packing, shipping and PayPal fees. A custom built wood shipping crate will be required to ensure safe transit.

Manufacturer Specifications:
High Performance Stereo Tape Recorder Tascam 42B
Professional Stereo Tape 2 track Recorder/Reproducer
Tape format: 1/4" width.
Track format: 2 Track 2 Channels 2 mm track width.
Reel Size: 10.5 inch.
Tape speed: 15 ips an 7.5 ips ± 0.2 %, may be varied ± 12%.
Wow and Flutter: < 0.08%. (weighted).
Heads: 3: 1 erase, 1 record and 1 reproducer.
Motors: 3: 1 for capstan DC Direct Drive PLL controlled, 2 for reels - Slotless DC motors.
Bias Frequency: 150 kHz.
XLR line inputs – balanced /unbalanced).
XLR mic inputs – 72 dbV (0.2 mV) 1kΩ balanced.
XLR outputs – 2 outputs balanced /unbalanced (switchable)
Headphone output: 100 mW /8Ω.
Record Level Reference: 0 VU reference, 250 nWb/m flux level.
Edit capabilities: edit each track and mixing between tracks with sync recording.
Distortion. <0.8% at 1 kHz. 0 VU.
S/N ratio: > 70 dB weighted, 100 dB with dbx processor.
Frequency response:
at 15 ips: 30 Hz – 22 kHz ±2 dB at 0 VU.
at 7.5 ips: 30 Hz – 16 kHz ±2 dB at 0 VU.
Crosstalk: Better than 55 dB between adjacent channels.
Rack mountable.
Power requirements: 100-240 V, 50/60 Hz, 80 W.
Dimensions: 432 x 505 x 272 mm / 17 x 19.9 x 10.7 inch
Net weight 32 kg / 70 lb 7.8 oz (70.485 lb

Constellation Audio Virgo III
Gently used Constellation Audio Virgo III preamplifier for sale with optional DC Filter. Absolute Sound Magazine Editors Choice Award Winner 2012, 2013, 2015, 2016 and 2017. This preamp was manufactured in 2017. Playback capabilities are tremendous, transparency, air and very musical with see-through neutrality. The base Virgo III list price is $32k with optional DC Filter $6k. Near mint, one meticulous owner since brand new. Includes original Aluminum billet remote control, box, accessories and factory manual. RCA and XLR balanced inputs and outputs. Being sold on consignment basis. No disappointments.
List price - $38,000
Asking - $19,985 o.b.o. SOLD

Worldwide shipping. Voltage set for 120v/60Hz North American, but can be internally re-configured for European voltage requirements.

No Trades.

Serious Inquires only please.
LaHave Audio Avaaza RAAL Ribbon Italian Ebony finish
Rarely seen LaHave Audio Avaza RAAL Italian Ebony for sale carefully hand crafted in Nova Scotia, Canada by designer Jim MacCleave and former RF Engineer Fred Conlon. LaHave Audio is a little known but growing company who has been quietly designing superbly musical and accurate loudspeakers for 30 years. The Avaza RAAL have been my defacto reference loudspeakers for the past couple of years, and possess a combination of musicality, tonal balance and see through transparency few can rival anywhere close to this price point, which is typical of LaHave's loudspeaker design philosophy. The Avaza design features a time and phase aligned array utilizing a RAAL ultra high bandwidth true ribbon dispersion tweeter mated seamlessly to a Seas Prestige Full Range Papyrus fiber 8" driver, air core inductors and premium resistors. The RAAL tweeter may be used, or may be completely disabled, depending upon personal preference and room acoustics. The full range speakers completely disappear when playing within the room and possess zero box coloration's, they are nearly the definition of transparency. Timbre, tone, vocal presence and clarity throughout the midrange frequencies is simply superb and transients lightning fast with visceral bass impact. The RAAL wide range ribbon (dispersion application) possesses an airy, electrostatic like characteristic, due both to its extraordinarily low moving mass and wide frequency response (2kHz - 100k Hz Flat). Condition - Age roughly 3 years - Rated a conservative 8/10 cosmetic condition, but closer to a 9/10. Operationally rated a 10/10 condition, no issues whatsoever and were never over driven, stored in a pet free/child free/smoke free environment and driven exclusively by David Berning ZOTL vacuum tube amplification. Includes wooden shipping crates custom built by LaHave Audio. Total shipping weight roughly 450lbs (2ea. containers) Pick up welcome, I am located roughly 35 min. from downtown Chicago. Please call with questions.
List - $16,695
Asking - $7995 o.b.o. SOLD



LaHave Avaza RAAL Italian Ebony & Soft Touch Micro Suede Black

Time and Phase Aligned

14" wide x 18" deep x 45" high

Maple Platform Base - 21" x 17" x 4" (Soft Touch Micro Suede Black)

weight: 145 lbs each

frequency response: 30 Hz - 35000 Hz +- 3 dB

power handling: 80 watts continuous, 200 watts short term

Nominal 8 ohms

Efficiency: 92 dB 1W/1m

Feet - Stillpoints Ultra SS (4ea.) per cabinet
David Berning Co ZOTL Custom Mono Amps and Berning Octal Preamp
Very rare opportunity. One-of-a-kind pair of custom made, bespoke David Berning Co. pure vacuum tube ZOTL mono block amplifiers and Berning Octal capacitance coupled pure vacuum RIAA + Line level preamp with external power supply for sale.
I can guarantee you will not find another pair of Berning ZOTL vacuum tube mono blocks quite like these. They are amazingly musical, transparent and dynamic with authority plus amazing drive. David Berning is a genius designer who has remained at the forefront of cutting edge vacuum tube amplification since the mid 1970's. These have been my personal reference amplifiers for a number of years and are supremely reliable, having never required any service. For personal reasons, I have decided to reluctantly offer them for sale to the right discerning buyer and music lover. These over engineered ZOTL mono amplifiers as you may guess from the photographs are very powerful with enormous headroom. Berning ZOTL amplifiers are renowned for delivering musicality, raw lightning fast dynamic transients, power, thunderous low bass authority and articulation with refinement in spades. Many special upgrades almost too numerous to list. Refer below for some details about these extraordinary, ultra reliable vacuum tube amps.
Together with the mono blocks, this is a rare opportunity to own a bespoke custom made, point-to-point wired David Berning Co. octal pure vacuum tube preamplifier with built in passive RIAA phono section section and outboard resonant switching vacuum tube power supply. Unlike Berning's later preamp offerings, this is a capacitance coupled design offering even greater midrange weight, palpability and body. Features many hand selected upgrades and component options. The line stage features NOS 6SN7 octal vacuum tubes with NOS 12SF5 tubes in the phono section. Playback is dynamic, clear and lively, offering a true 3D holographic dimensionality, with solid imaging and an open, grain free musicality with simply wonderful timbre and tonal characteristics. As an octal tube based design, this Berning Preamp requires a high quality, heavy, high mass equipment rack to perform at its best.
Asking - $19,490 o.b.o. (SOLD)
Berning ZOTL Mono Amplifier Specifications:
Output Tubes: (2) 6JN6 Triode / (2) 12AT7 and (1) 12AV7 (Per Mono Block x 2/ea.)
Power Output - Minimum 100W @ 8ohms per channel high current (Stable at lower impedances) will drive literally almost any loudspeaker, including dynamic and electrostatic / planar type.
Class A/B Operation.
Massive power supply features 500,000 microfarad filter capacitance total per ea./ Monoblock. This equates to 1,000,000 microfarad's total. = Tremendous headroom!
ESL Direct Drive capability - 5000 Volt per channel peak-to-peak configurable for electrostatic loudspeaker use only.
Ultra High Bandwidth Design and DC Coupled.
Fully balanced Internal Design.
Selectable 3-Way Feedback switch LOW, MED and NORM for proper matching of loudspeaker damping characteristics. No Phase compensation.
Patented Berning ZOTL Output Transformerless pure vacuum tube design.
Cycle by Cycle Auto Biasing vacuum tube circuitry.
Brown out surge protection circuitry built in.
Power Filter and Surge suppressor built in.
Input Impedance 50k
Custom point-to-point internals hand wired by David Berning.
Pure Silver Coils (Output - Spare set included)
Pure Copper Coils (Output - installed)
Jupiter Copper Foil Paper in wax Coupling Capacitors.
Pure solid core Neotech OFPCC Cryogenically treated internal wire.
Pure Copper Cardas Speaker Binding Posts.
Furutech pure Copper IEC inlet.
Power Requirements: AC 120v/60Hz mains / 220v/50Hz configuration optional.
Dimensions external: L 23 1/4" W 13 3/4" H 15"
Weight: 60lbs./ea x 2.
Berning Vacuum Tube Preamp Specifications:
David Berning Custom Made Pure Vacuum Tube Octal Preamplifier.
Custom Made Black Aluminum Chassis and Vented Black Aluminum Power Supply Enclosure.
Capacitance Coupled Design.
Features Point-To-Point Wiring Internally.
Line Stage section: (4) 6SN7 octal vacuum tubes (Sylvania 6SN7 VT-231 NOS Chrome tops included.)
Passive RIAA Phono Stage section: (4) 12SF5 octal vacuum tubes (Note: Conversion to 12AX7 ~ 12AV6 single triode tube is possible by tube socket modification for lower noise.)
Outboard Choke Type Resonant Switching Pure Vacuum Tube Power Supply: 33JV6 vacuum tubes.
Cathode Follower Output.
No additional filters.
Turn On / Turn Off Auto Mute Function.
High Level Gain 18dB
MM Phono Stage Gain 46dB
MC Phono Stage Gain with SUT 64dB
Jensen JT-347-AXT Step Up transformers included (1:12 ratio configured)
Rear Phono Plug Resistor Type Loading (RCA) (Spare Loading resistors included) Line Outputs - 2 sets
Line Inputs - (2) Line Level, (2) 47k MM and (2) MC (Includes (1) pair for additional resistor loading plugs).
Jupiter Copper Foil Paper & Wax Capacitors (Line, 2.2 uf) Jupiter Copper Foil Paper & Wax Capacitors (Phono)
Ceramic & Teflon Tube Sockets.
Cardas Pure Copper Ground Post.
Furutech Gold Plated IEC inlet.
GoldPoint 50K Stepped Volume Attenuator
GoldPoint Selector Switch 2-Pole / 5-position
Cardas Gold Plated Female RCA Input / Output Jacks
Van den hul Colibri XGP MK.2 sped Blackwood Grenadille
Gently used trade-in Van den Hul Colibri XGP Mk.2 SPED upgraded just back from factory service, check up and inspection. Gold Coils, 0.38mv output, suspension factory optimized for medium mass tonearms. Hours of use roughly 400 hours, which is still quite low for a stylus with expected lifespan of 3500 - 4000 hours. If you are seeking a cartridge with dynamics, speed and clarity combined with tonal + timbre naturalness, which excels with jazz, acoustic and vocals, this is an ideal fit. This VDH phono cartridge was a recent "A" stock client trade-in and guaranteed genuine.

"Van den Hul Colibri, the Ferrari of phono cartridges"
List price - $8400
Asking - $2895 o.b.o. SOLD
Thoress Parametric Phono Equalizer
Lightly used Thoress Parametric Phono Equalizer for sale made in Germany, vacuum tube based design, featuring adjustable RIAA deemphasis curve shaping, this phono stage offers many useful adjustments and multiple inputs with individual flexible resister loading capabilities. In essence, this is a highly regarded, supremely musical phono stage, all internally point-to-point wired with plenty of gain, drive and dynamics and has the ability to cast an enormous sound stage with tremendous air and 3D layering. Vacuum tube compliment: (1) PCC88, (2) 12SN7GT, (2) PC86. This special Thoress phono stage was originally purchased new, is roughly 2.5 years old and being sold on consignment, as our client is currently migrating over to an entirely solid state based system. Currently, the phono stage is configured at factory "P1" input settings, for low output moving coil phono cartridges and customizable load settings which are presently configured at 50 ohm, 100 ohm, 100 ohm, 500 ohm, 1K ohm and 47k ohm respectively. (1) Output = Stereo and (2) Output True Mono. Naturally, these settings may be changed internally at any time per the end users discretion.

Manufacturers links below.
http://www.thoeress.com/manuals/thoeress_phono_enhancer_manual.pdf
http://www.thoeress.com/en/phono-enhancer/#page2
List price - $12,540
Asking - $6495 SOLD
Miyajima Labs Saboten L
Serious offers, please contact me directly. Latest offering from Miyajima Labs Saboten L for sale, low output moving coil phonograph cartridge featuring their famed Cactus spine cantilever, Ebony body and Shibata status profile. Musical, weighty, natural organic presentation with more liveliness and air than previous offerings. Well suited for use with medium-high effective mass tonearms. Never used, only tested to ensure proper operational condition. Warranty included. All original packing materials, worldwide shipping.
Miyajima-Laboratory  Stereo cartridge -SabotenL  Specifications:
Impedance About 16 ohms (About 0.23mV output) Frequency range (-3dB) 20 Hz to 32 kHz Tracking force 3.0 g Stylus Shape nude Line Contact diamond stylus Compliance (10Hz) around 8×10-6cm/dyne Appropriate temperature 20-30 Celsius (most suitable 25 C)  68-86 Fahrenheit (most suitable 77 F) Weight About 9.5g Body Cameroon ebony

List price - $4895
Asking price - $ SOLD

Technics Sp10Mk.3 NGS Direct drive
Mono and Stereo Magazine review Quotes by Richard H. Mak
"There is no music better to demo the NGS than Batman's own music, or should I say Hans Zimmer and James Newton's original soundtrack "The Dark Knight Rises", the bass notes on track Underground Army is not just chest pounding, but earth shattering! It reminds me of the sound of the thumper which the Fremens use to summon the Sandworm on the planet of Arrakis (a scene in David Lynch's 1984 movie DUNE). It is the deepest "thumping" which I have heard from any turntable, including my personal reference TW Raven AC, and the VPI Titan which I recently review. It literally shakes the foundation of my listening room with solid deep bass "thumping".
"The same explosive dynamics is carried onto The Battle on Ice in Prokofiev's Alexander Nevsky with Thomas Schippers directing the NY Philharmonic (Columbia Masterworks MS-6306), on a lesser table, the recording can easily be turned into a garbled up mess, combined with ear-piercing edginess on the highs. The sound remained composed, with clear instrument separation and solid holographic projections. The weightiness of the instruments makes the presentation more forward, immediate, yet the acoustic space remains layered and three dimensional. It throws musical elements in all directions, creating an ever-expanding soundstage with vivid colors, and high contrast." Read full review here (Link)

https://www.monoandstereo.com/2018/07/artisan-fidelity-technics-sp10-mk3-ngs.html

Rare opportunity, a Technics Sp10Mk.3 NGS Direct Drive Demonstrator model is available for immediate purchase.
List price - $38,895
Demonstrator - $SOLD
Magnum Dynalab MD 809T Vacuum Tube Internet Media Tuner
Gently used, one owner, 2-3 years old Magnum Dynalab MD 809T Vacuum Tube Internet Media Tuner for sale with Wi-Fi and Ethernet connect capability. Playback characteristics are warm, musical with natural tone and ample spaciousness. This was a gently used, single client owner unit being sold on a consignment basis. Create and list your own personal radio stations at will, with literally many tens of thousands to choose from. Magnum Dynalab needs no introduction, they are a legendary manufacturer who has been steadily perfecting the art of analog FM radio tuner design and now the latest in internet based radio, for over 30 years.
Original Vacuum Tubes included.
Retail - $8000
Asking - $3895 o.b.o. SOLD